Private Transportation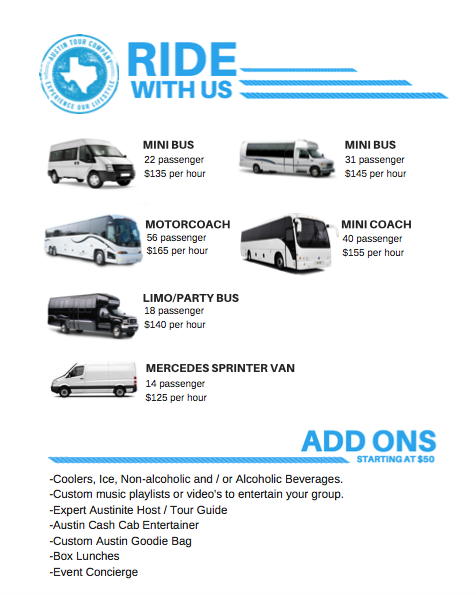 Paikka: Austin, TX
Tuotekoodi: PQ1YBU
Our transportations fees range from $135 - $165 an hour. You must have at least 15 people in your party in order to book. We can accommodate up to 56 guests at a time.
We offer two options with private bookings-
One: We can reserve your bus, make itinerary suggestions for you and then give your final itinerary (set by you) to your driver. Here you have the option of paying in full yourself, personally collecting money from your guests, or we can set up a link for you where all of your guests can give individual payments to cover the total fees.
Two: We can reserve and coordinate your full itinerary for the day or weekend. With this option we can work with your budget to include excursions/outings for you and your guests. This option would include extra fees as seen in 'add on's' based on size of your party and itinerary details. This option also allows you to pay in full or have a private link for guests to pay individually.
*In order to book private transportation, please email us at info@austintourcompany.com or call 512-ATC-TOUR for a free consultation*